VBS 2013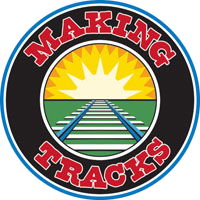 We invite you and your children to join us for this year's Vacation Bible School.  The children will learn and sing songs, play games, make crafts, and most importantly learn about their Savior, Jesus Christ.
When:  June 17- June 21, 2013
Where: Holy Cross Lutheran Church   910 E. Cedar St.  Standish, MI
Time:  9:30am-12:00pm
For: Children in Preschool-6th grade
Registration:  To register call Pastor Andrew Frey at 989-846-4677 or click here to register online.
The children are invited to participate in a special VBS program that will be held during our Worship service on Sunday, June 23 at 9:00 a.m.  Families are encouraged to come.  Refreshments and a perusal of crafts and pictures from the VBS will follow.
To see pictures of last year's VBS, visit our Photos page.
This year's theme is:  Making Tracks.  In Making Tracks the students will learn:
- That Jesus has all power and helps them physically and spiritually
- That God's word is the spiritual food they need daily to grow in faith
- That all people are precious to God
- That they can show their love for God by showing love and kindness to others
- That God wants them to tell others about the Savior so that they believe in him and arrive safely home in heaven.
Stories Include
-  Jesus helps a man who cannot walk (Matthew 9:1-8)
-  Jesus visits Mary and Martha (Luke 10:38-42)
-  The Lost Sheep (Luke 15:1-7)
-  The Good Samaritan (Luke 10:25-37)
-  Philip and the Ethiopian (Acts 8:26-40)